Posted by Crown Stefana on 27th Jul 2016
Win a My Big Fat Greek Wedding 2 DVDs & Wedding Essential Package from Crown Stefana.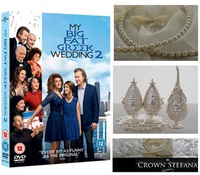 To celebrate the release of the heart warming comedy My Big Fat Greek Wedding 2, available on DVD, Blu-ray and digital download on 1 August, Universal Pictures (UK) has teamed up with popular Greek wedding designer Crown Stefana to give away two prizes of a DVD of the film plus a package of Greek wedding essentials including a crown, a silver plated wine goblet and an incense burner.
In My Big Fat Greek Wedding 2, Toula and Ian have raised their daughter Paris in the bosom of her extended Greek family. But Paris, now 17, is eager to set out on her own. When an unexpected wedding threatens to disrupt the clan's delicate balance, it can either bring them all together - or put them all at odds...
For more information on Crown Stefana visit www.crownstefana.com
Entries are valid until 9th of September 2016.
© 2015 Universal Studios. All Rights Reserved
Click link below to enter and see terms & conditions.
http://clickswin.takeabreak.co.uk/sweepstakes/win-...